SMS API plugin ensures real time communication for The Gateway Church
The Gateway Church, based in King's Lynn in Norfolk, England, sends communications out regularly to its congregation. Using various platforms, such as social media, email and SMS, to communicate, the church has found that each has its own advantages when used for broadcasting news, publicizing events or sending out prayer requests.
While social media and email are used effectively for general communications to the church's congregation, there are times when an urgent message needs to be sent through a more targeted and direct channel. According to Andy Moyle, pastor at the Gateway Church, "When an important message needs to go out - a venue change, an event cancellation or a prayer request – we choose SMS. SMS is fantastic when we want everyone to know anything immediately because not everyone checks their email or social media pages regularly, but they will read their text messages and respond almost immediately."
The Gateway Church used Wordpress to develop their online administration system and used a Wordpress plugin to SMS enable this system. The plugin makes use of an SMS API and this integration means that the Church can send SMS messages as and when they need to through the BulkSMS platform, ensuring a simple and convenient communication channel linking them to their entire database directly from their admin interface.
The interface also allows the church administrator to choose who the message is to be sent to, either the entire congregation or smaller targeted groups. For example, the administrator can choose the required recipients, from age group, gender, regular or irregular church attendees, volunteers per category, etc., to make sure that the relevant people get the right message at the right time.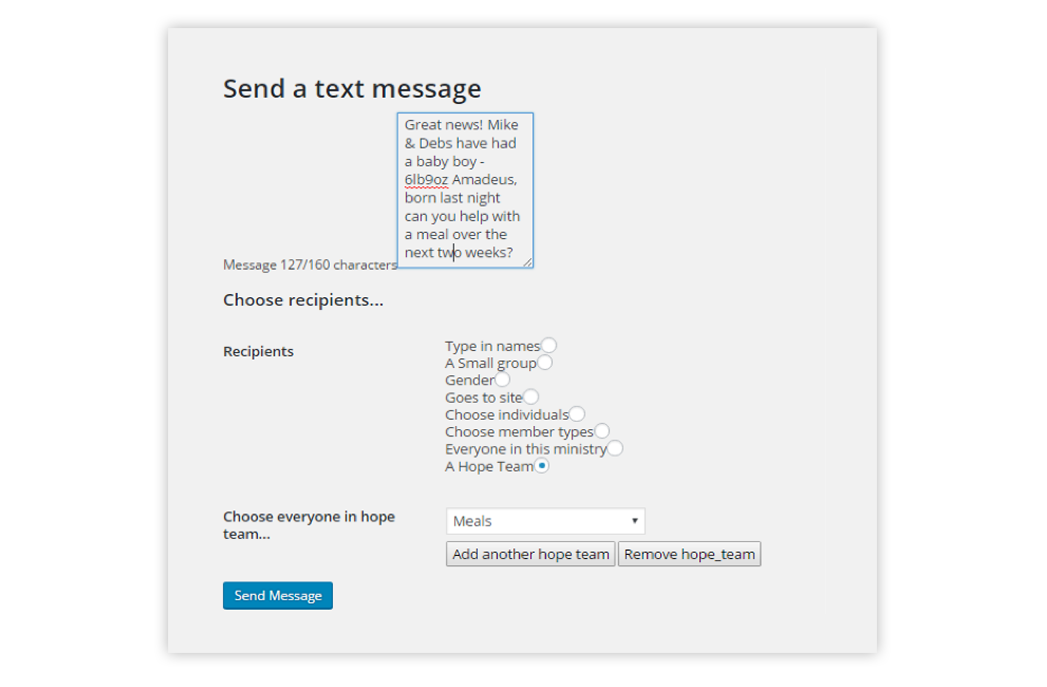 In the screenshot of the interface above, an SMS text message was sent out requesting meals for Mike and Debs who had just had a baby. The use of SMS here means that only the appropriate support group was contacted to ensure that the family received the right amount of support and care. Because SMS messaging is so targeted, you can be sure that only the intended recipients will receive the message, and for prayer requests of a more personal nature, it means that the whole congregation is not informed as would be the case using social media. Andy Moyle believes that "when we send out text messages of this nature, we get a much better response rate than through any other communication channel."
"The Gateway Church's use of SMS is such a great example of the diverse use of SMS integration. The fact that the SMS API allows for targeted communication as well as general broadcasts straight from a central administration system proves how is versatile and adaptable it is." says Dr. Pieter Streicher, managing director at BulkSMS.com.