Hull Samaritans uses SMS to communicate with volunteers
The Samaritans are a charity, with 203 branches across the UK and the Republic of Ireland, that offers a safe space for people to talk through problems, issues or concerns that they may have about themselves or others. The Samaritans are a volunteer based organisation and the organisation's model works thanks to the unpaid staff who respond to incoming phone calls and emails during their shifts. Volunteers are trained not to judge or to give advice, but allow the "caller" to work through their concerns and can help with exploring options or simply be there to listen to the caller.
The Hull branch of the Samaritans realised that they needed a system that allowed for shift management of its volunteers to ensure that their service was available 24/7. By using the online volunteer management system, Three Rings, developed by Three Rings CIC, a volunteer-run non-profit IT organisation, they had an easy way to monitor the shift roster. If there were shifts that were not filled, Hull Samaritans wanted to be able to send out a call to its volunteers requesting urgent assistance to help with the staff shortfall. This communication needed to be instant and reliable, which is why they turned to SMS.
Fortuitously, Three Rings had enabled SMS text messaging as a communication channel as part of its volunteer management system, allowing for a customised connection to one of three SMS gateways. When asked what determines which SMS providers they support, Dan Q, Developer at Three Rings CIC, stated that they "look for an SMS provider that offers value, as most of our clients are charities often operating on a small budget, and an SMS API that can be easily integrated into our system. We included the BulkSMS.com API option way back in 2007 as it met our criteria".
Hull Samaritans chose to use the BulkSMS.com SMS gateway as it was well priced, well-reviewed and offered a simple payment process. Three Rings then integrated the BulkSMS's HTTP to SMS API into the management system. This has enabled Hull Samaritans to communicate directly with their volunteers from Three Rings.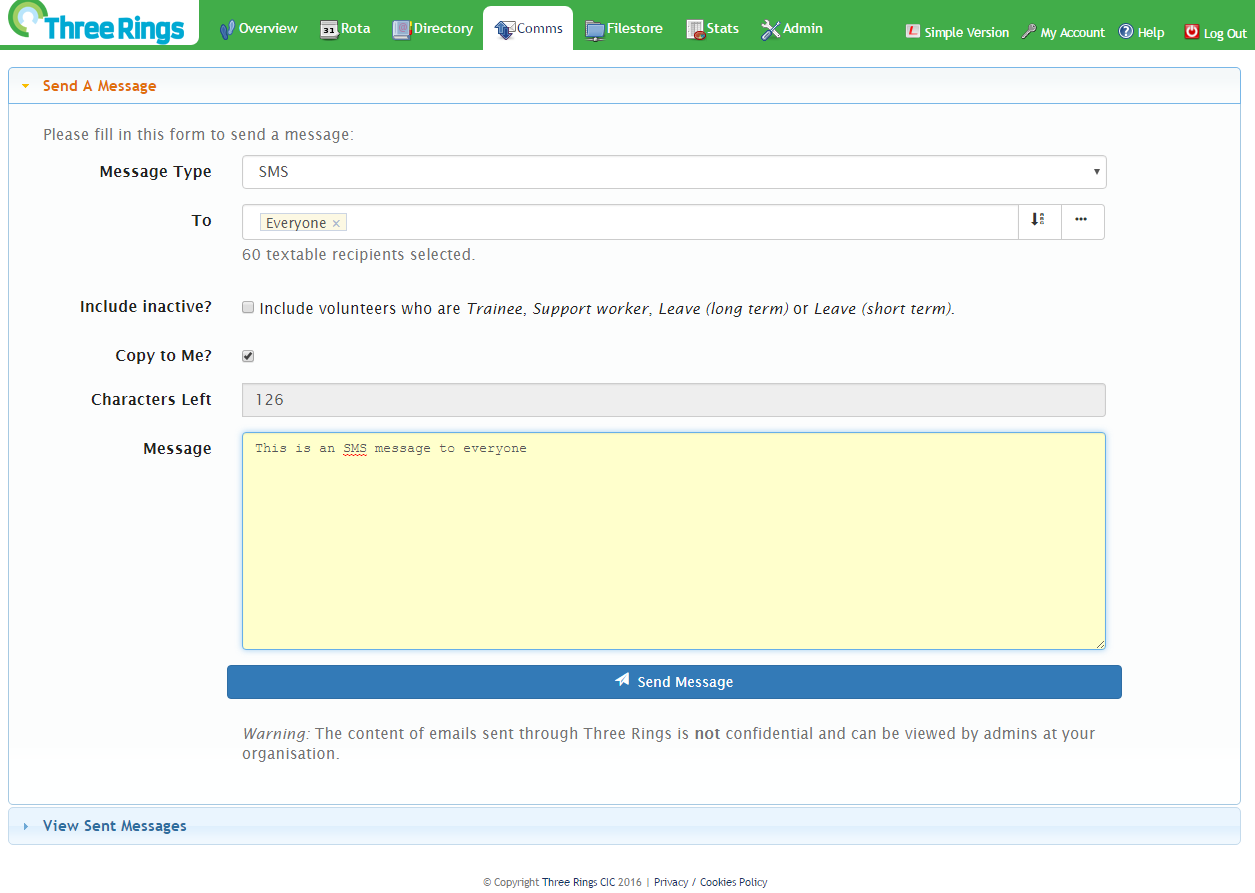 Hull Samaritans looked closely at what communications channel would best work for managing volunteers. They chose to use SMS messaging over email as SMS text messages are delivered directly to the volunteers' mobile phone, no matter what they are doing. Rik Lewis, previously the Deputy Director at Hull Samaritans and the current IT Administrator, believes that, "People tend to check their SMS messages quicker and more regularly than they do email." Lewis adds, "when using SMS to contact our volunteers to fill a shift last minute, we had a much better success rate than we did when using email. This helps us to keep our shifts open and be there for our callers."
"SMS offers a cost efficient communications platform for non-profit organisations," says Dr Piet Streicher, managing director of BulkSMS.com. He goes on to say that, "The immediate delivery along with the fact that every mobile phone has the ability to receive SMS messages makes it the perfect medium to communicate with volunteers. Integrating an SMS API into an already existing software platform enables an organisation or charity direct contact with its volunteer base and in the Hull Samaritans' use of the Three Rings system, means that only one application is necessary to monitor relevant shifts and communications to their volunteers."