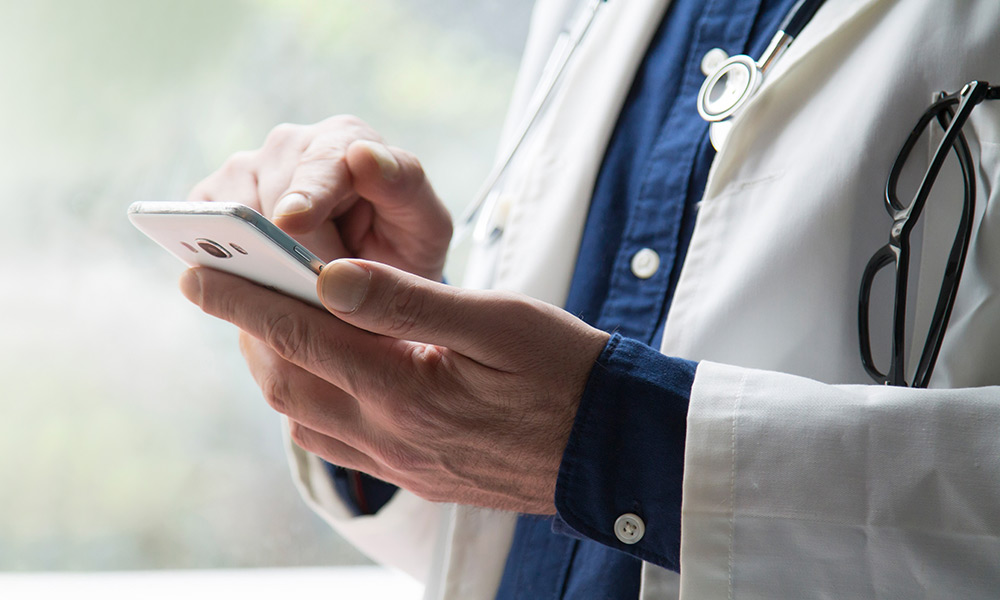 Like many other industries, digital transformation has found its way into Health Care and is changing the way that healthcare providers care for and communicate with patients. Telemedicine (the exchange of medical information from one location to another using electronic communication) allows doctors and medical staff to interact in real-time with patients without having to physically be in the same place. With advances in technology, telemedicine goes beyond empowering these e-visits. It enables healthcare providers to reach patients who might not receive the specialised care they need when they need it, it limits the spread of disease from patient to doctor and it also allows healthcare professionals to tend to more patients in one day. The practice of caring for patients remotely is something that will soon become the new norm, and SMS is already playing a crucial role in its success.
One of our clients, Jay Stockman of JB Billing Services, a programmer and doctor based in New York City, has experienced just how effective the use of SMS is in the telemedicine industry. Tasked with the challenge of finding a suitable solution to alert off-site doctors when a patient exam was completed, Jay turned to the tried and trusted SMS.
How did he do it?
In order to simplify the way patient information is stored and accessed by medical providers, Jay created a customised electronic medical record (EMR) software solution. This software is used by over 400 doctors and medical institutions in the USA. By SMS-enabling his bespoke software, he was able to program the EMR to trigger an SMS alert to go to the off-site doctor whenever a patient exam was completed by the on-site medical technicians.
"Prior to using the SMS API, all off-site doctors were contacted manually by the on-site medical technicians. The techs were required to find the relevant remote doctor's cell number and then manually send an SMS to inform them that the patient's file was ready for review. This process was time-consuming and riddled with mistakes. The use of the automated SMS notifications has eliminated human error and has made this process completely efficient and fast. " says Jay.
What used to require manual intervention, now happens automatically. The SMS alert contains the relevant patient ID and prompts the doctor to review the patient's exam and advise accordingly through a TV monitor.
Why SMS?
When asked why Jay chose the BulkSMS API, his response was, "I'd tried a few API's, and found that BulkSMS was the perfect match. The API was user-friendly, flexible and easy to integrate. The tech support staff have also been incredible."
Jay told us that he has recently enabled automatic SMS alerts to the patients. The system sends these alerts out to remind patients of their upcoming exams and procedures. He is also in the process of incorporating a "texting feature" into the Patient Records, which will make it easy for the office staff to send SMS messages to the patients directly from the EMR software.
What started as a simple integration to solve a frustrating challenge, has grown to include SMS as a core part of the internal and external processes. The use of our SMS API to communicate with both doctors and patients shows just how versatile SMS really is.
To find out more about our SMS API, click here or go to our solutions page to find out more about what SMS can do for you.