Delivering space weather alerts to mobile phones
SpaceweatherText is an astronomy alert service run by Spaceweather.com, based in Bishop, California, USA. The SMS message alert service has a global reach and is geared towards both causal sky watchers and serious astronomers who seek to be kept updated on celestial events that range from auroras, comets, eclipses and meteor showers to geomagnetic storms, solar flares, and solar winds gusts.
The SpaceweatherText service was deployed in 2010 by Ray Finch, owner and technical lead at Spaceweather.com. It was set up as a result of Spaceweather.com expanding its online educational platform and email alert service along with SpaceweatherPhone, a telephonic voice notifications service, to include sending text messages to subscribers' mobile phones.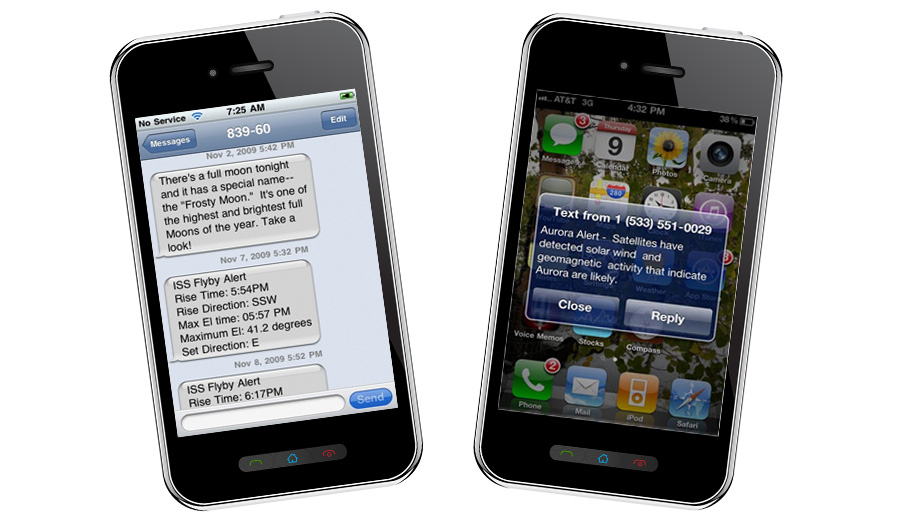 According to Finch, "The initial impetus for the email and voice alert services was that, as astronomical activities take place 24/7, we needed to implement a system that people could subscribe to and receive automated and real-time notifications of changing space weather patterns or astronomical occurrences." With the mobile channel becoming more and more popular at the time of the implementation, the Spaceweather team recognized that expanding their alert services to include notifications sent via SMS message would keep their service in step with their customers' preferred method of receiving alerts.
"As mobile phones became more common, it was clear to us that SMS would be the best way to deliver the alerts and this realisation then led to the launch of SpaceweatherText. While we still offer the phone call and email alert service, we find that the SMS notification service is a more popular choice among sky watchers and astronomers," says Finch.
In order to provide a real-time SMS alert service, SpaceweatherText needed an SMS API that could easily integrate into their space weather monitoring system. "We added SMS functionality to our system by integrating with the BulkSMS API. This enables SMS messages to be automatically sent to our subscribers when there is any cosmological activity happening near them," says Finch.
SpaceweatherText allows for anyone with a mobile phone, to sign up for the service by registering and purchasing a monthly subscriptions via the Spaceweather website. The SMS alert service is used by astronomy enthusiasts all over the world and subscribers range from casual sky watches to Ham radio operators to serious astronomers who need real-time information regarding cosmological occurrences.
"We are thrilled to see the way SMS is being integrated into such innovative space weather information service. SpaceweatherText is a prime example of how the addition of an SMS API solution can truly transform the ability of a web platform to deliver alerts through the trusted SMS communication channel," says Dr. Piet Streicher, managing director of BulkSMS.com.