Founded in 2014 by Paul Stuhlfelder, The Computer Guy LTD is an information and communication technology company that offers hardware support to SME's in North Wales. The company's primary goal is to provide customers with innovative solutions to meet their technical needs. For Paul, this means providing first class support and quality service no matter the nature of the job.
One area of expertise offered by The Computer Guy is the building of custom firewall solutions for their clients who want to set up a public WiFi system for their customers. These firewall solutions are built on open-source software which gives them full control of all aspects and it allows their captive web portals to be fully branded to match the clients' website design. A captive portal or web page is where a page requests that the users interact with the firewall, i.e by entering a predetermined code, providing an e-mail address etc, in order to log onto the Internet.
For example, at Rhos Holiday Park, in Anglesey WiFi is available to all their visitors. In order to secure this public WiFi, Paul has created a captive portal (web page) that is also equipped with a logging system that keeps a record of all public Internet users. This logging system is a must-have for all Internet service providers as per the internet service provider regulations in Wales.
In the event that the above mentioned logging system becomes unavailable or experiences a technical glitch, when a guest tries to access the Internet they will be redirected to page which states that the WiFi is unavailable. At this point, an automated email is sent highlighting the problem. The user is then also given the option to send an SMS as a second form of notification. If the user chooses to send an SMS, an automated SMS is delivered to the team at The Computer Guy. This gives the WiFi users the ability to report any issues directly with The Computer Guy, ensuring that any issues are given urgent attention.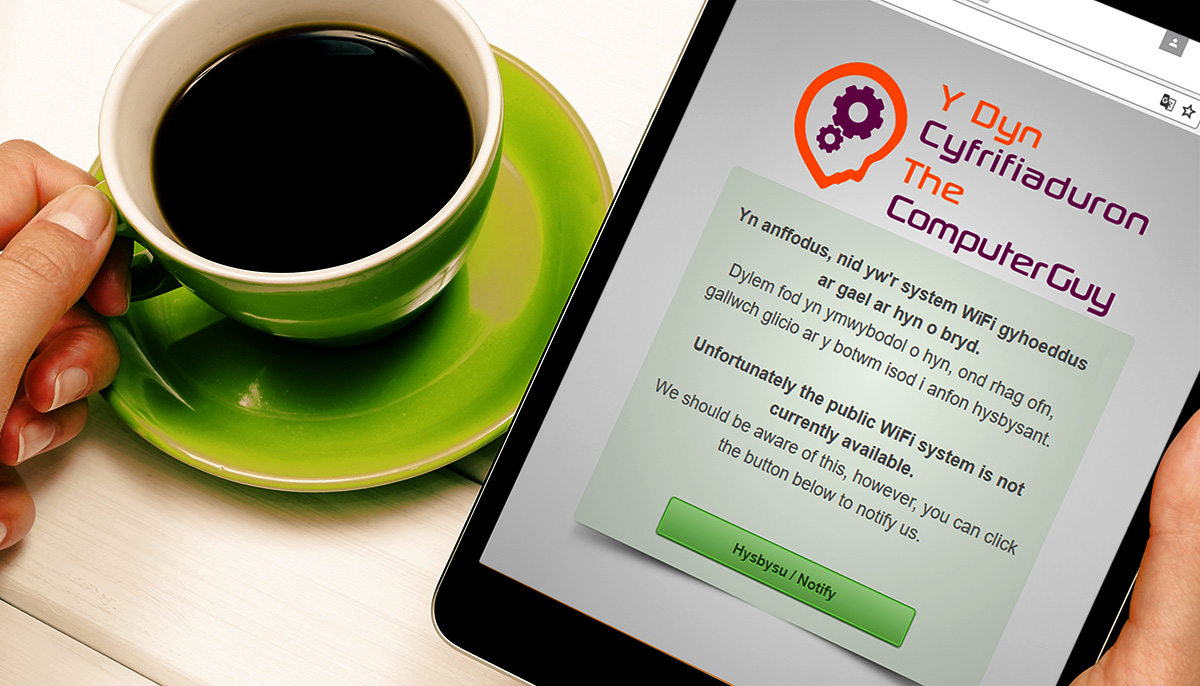 Another example of where the SMS integration has aided The Computer Guy is where a recent power supply failure on The Public WiFi system at Fron Goch Garden Centre, this meant that Internet access was not available to customers in the café. This problem was flagged by one of the customers using the SMS notification option, which allowed the team at The Computer Guy to respond and repair the problem immediately. "The use of SMS in this case meant that we were able to fix the issue before the manager of the Garden Centre even knew there was a problem," says Paul.
According to Paul "not only is the SMS option a necessary add-on if the end-user needs to access WiFi urgently, but it is also essential when the email notification delivery fails. In some areas in North Wales, there are often data connection issues which means that an email won't be delivered but an SMS will. This is one of the primary reasons we chose to use SMS as an alert mechanism."
By integrating the BulkSMS API solution into his bespoke firewall solutions, Paul is sure that he will always be notified when there is a problem that needs to be seen to urgently. And in turn, he knows he will always keep his clients happy and his clients' customers online.
"It is great to see companies like The Computer Guy using SMS to streamline their processes. Paul's use of our SMS API is innovative and effective; it really shows how malleable SMS integrations can be," says Dr Pieter Streicher, managing director of BulkSMS.com.