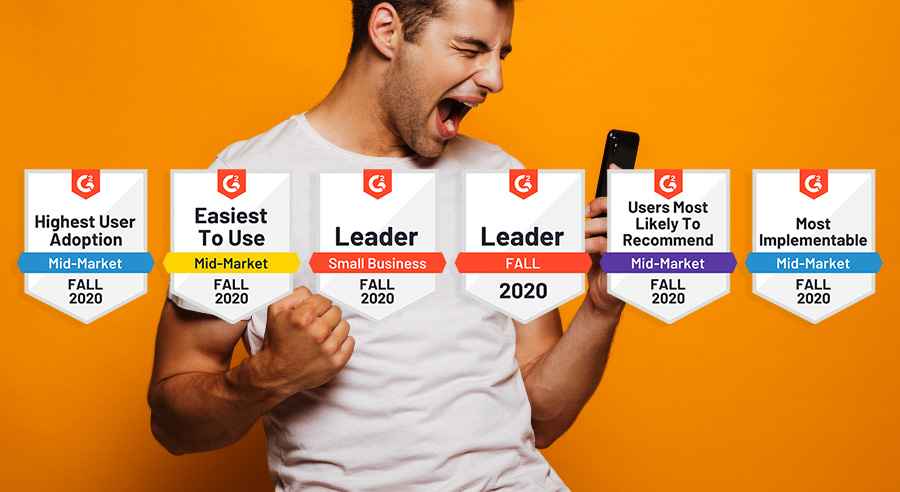 We are proud to be recognized as a leader in the SMS Marketing Category of the G2 Fall 2020 Grid Reports. Within this category, we placed 1st in the Mid-Market Implementation Index for SMS Marketing; 3rd in the Mid-Market Usability Index for SMS Marketing, and we placed in the Top 10 in the Overall Relationship Index for SMS Marketing & Usability Index for SMS Marketing.
G2 is the world's leading business solution review platform, and its quarterly Grid Reports present ratings based on customer satisfaction and market presence. They pride themselves on creating an unbiased platform that promotes authentic and legitimate reviews - making it easier for decision-makers to choose solutions most suited to their needs. Every month, business professionals and analysts use G2 to compare and select the best software and services based on peer reviews and social data.
"We have been utilizing BulkSMS for several years and have found it easy to use and reliable. Our primary business application and our infrastructure monitoring platform have validated integrations with BulkSMS which make it easy to be alerted. We have also utilized the API to make our own custom integrations," said a BulkSMS.com customer in a recent G2 review.
BulkSMS was founded 20 years ago with the dream of creating a user-friendly platform that could be used by large and small businesses, public benefit organisations, and individuals to send short and important messages. Today, 20 years later, BulkSMS is enabling businesses to do so much more than we had ever imagined, and it's great to see platforms like G2 recognizing this.
We'd like to say a huge thank you to all of our customers, new and old, for choosing us to get your message across. We can't wait to see what the next 20 years hold. We're delighted to know that so many of our customers consider our products to be one of the most user-friendly and easy to implement solutions out there. If you'd like to find out more about what our customers are saying on G2, or if you'd like to leave a review, click here.