Why do I need a STOP request?
As part of our best practice guidelines, we advise all of our customers to offer an easy way for their contacts to opt-out from receiving SMS communications. In most cases, a message recipient would be able to reply to an SMS with a simple STOP request.  In countries where BulkSMS enables replies, our system automatically processes any STOP requests and will prevent you from sending any further SMS messages to recipients who have opted out from your database.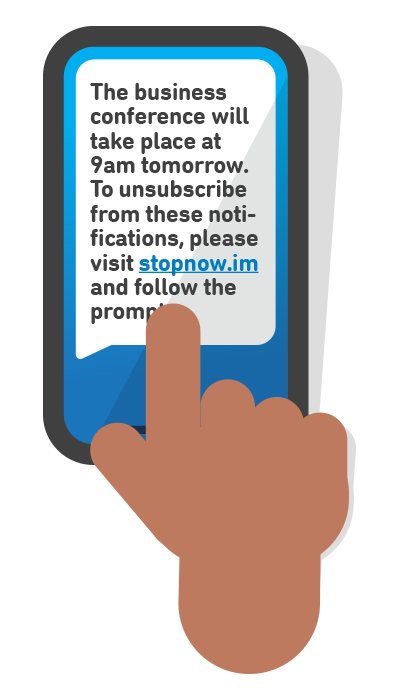 How does a STOP request work?
When a message recipient replies to an SMS message with a STOP request (i.e. responds to your SMS message with the word STOP, UNSUBSCRIBE or QUIT), our system automatically blocks your BulkSMS account from sending to that mobile number again. We will send you an email letting you know that your contact has asked to stop receiving SMS communications from you.
In cases where SMSes are not repliable (i.e. a message recipient cannot reply STOP), you will need to add a link to your outgoing SMS which, when clicked on, takes the message recipient to the BulkSMS Stop Page. You can add one of these links ( Unsub.im, Stopnow.im or Optout.im ) to your SMS message, asking your customer to click on the link to opt out of receiving SMS communications from you. Any of these links will then take them straight to our Stop Page, which is where they will be able to unsubscribe from or opt out of receiving SMS communications.
This is particularly useful for our customers using a Sender ID, or sending SMSes to networks where we are not able to get replies, such as those in India or the UAE.
What do I need to do when I receive a stop request?
If you are using our Web App to send and receive SMS messages, you don't need to do anything in response to the STOP request as our system will automatically remove the contact from your address book. If, however, you are sending SMS messages from any of our other platforms, you need to manually remove the contact that opted out from your contact list. Attempting to send an SMS message to an unsubscribed contact will incur messaging costs. 
For any information or queries regarding STOP requests, please contact support@bulksms.com.