Kool Kids, based in Cape Town, South Africa, is a leading child, baby and adult casting agency with an eye for talent. What began as a small project in 2000 has flourished into a constantly growing business that deals with both local and international clients. Today, Kool Kids is a recognized industry leader when it comes to casting children & adults in various roles for TV, social media, film, magazines, billboards, and adverts for big name clients including McDonald's, Mercedes and Nestle.
Because Kool Kids casts, and therefore interacts directly with their talent base, regular and immediate communication with them is essential in ensuring that they are informed of any auditions or casting they might just be perfect for. To ensure that their talent remained informed of any casting opportunities, Kool Kids turned to SMS. According to Nicky Greyling, owner of Kool Kids, "SMS allows for quick and easy communication; it is also economical and it saves time when we need to communicate the same message to multiple recipients."
Greyling started using SMS in 2007 and has found it be a very reliable way of communicating with the parents/talent whenever they are needed at an audition or if they have been shortlisted. In most cases, SMS messages are sent inviting them to a casting. In cases where talent has been shortlisted for a role, another SMS message is sent detailing the time and date of the callback/2nd casting. In both they are asked to confirm attendance by replying to the SMS.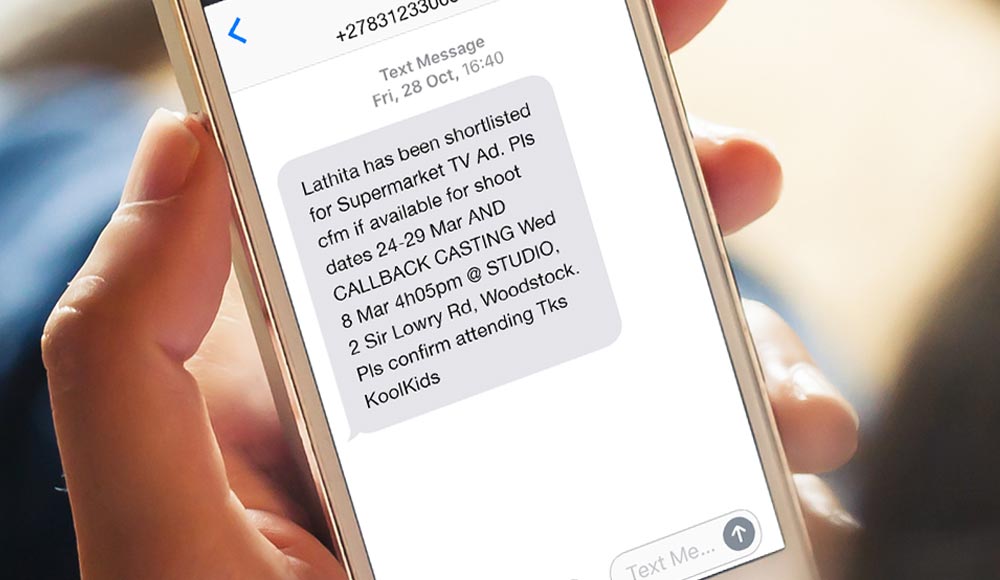 SMS is being used to facilitate two-way communication between the talent and the Kool Kids team; thereby ensuring that the organisers know who is coming to each of the castings and that the talent know where the castings will take place.
"It is great to see that Kool Kids has chosen to use The BulkSMS Desktop Software to enable quick and easy group messaging as well as encouraging two-way communication with their parents/adult talent. Their use of SMS plays an important role within their communication strategy and it shows how reliable it is when communicating time-sensitive information," says Dr. Pieter Streicher, managing director of BulkSMS.com.