Mobi-gram becomes key communication tool for Cape Town Security Estate Manager
Stonehurst Mountain Estate, based at the foot of the Silvermine Mountains in the Western Cape, South Africa, encourages sustainable and environmentally conscious living while trying to balance the interests of over 300 property homeowners. To do this, Stonehurst prides itself in interspersing sustainable home design with footpaths and parks that celebrate being immersed in the fauna and flora provided by the beautiful Cape Peninsula. More than this, the Lifestyle Centre in the middle of the estate is fitted with a lounge, garden and gym to appeal to the social needs of its residents. Given the nature of the estate, efficient communication between homeowners is essential in keeping all residents informed, satisfied and up to date.
This is exactly why Glynis Coetzee, estate manager of Stonehurst Mountain estate started using the BulkSMS Text Messenger last year as a means of communication. According to Glynis, notifications are sent out to all homeowners using the BulkSMS platform, which may include urgent SMS notices such as water or service interruptions or invitations and reminders about upcoming events, issues and activities taking place on the estate. Examples of these types of notifications may include messages about a book launch or live music event happening in the Lifestyle Centre.
To visually enhance such invitations and reminders, Glynis started using the Mobi-gram feature and has found this feature "fantastic" when wanting to add more information and visual components to the messages. Not only do the Mobi-gram messages function to inform residents about upcoming events but they are also used to link residents to ticket sales and booking confirmations.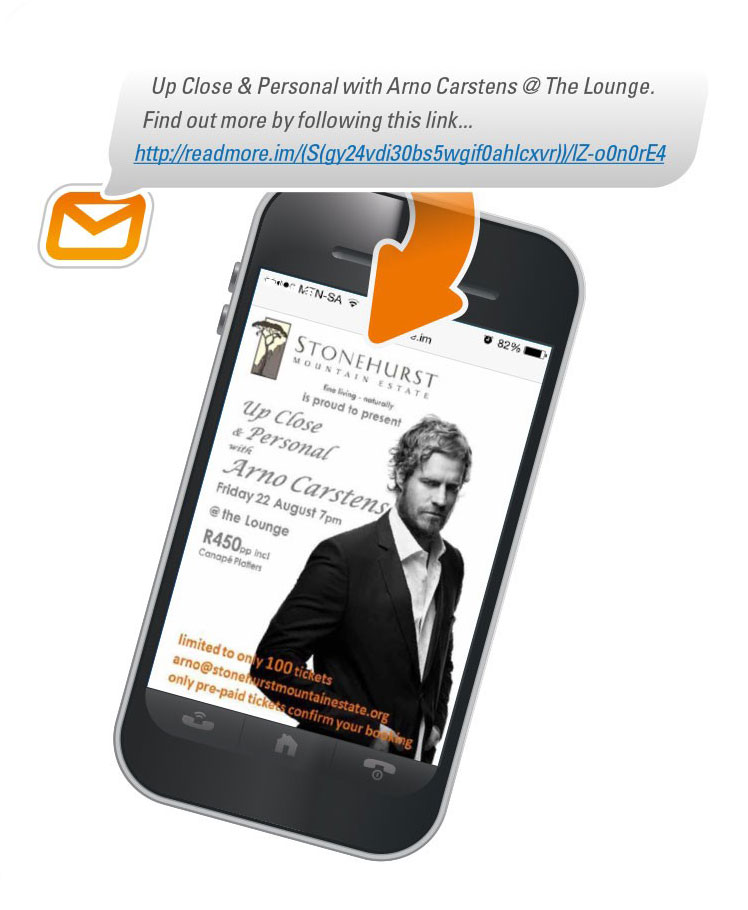 "We are pleased to see our service being used to better the communication amongst residents and homeowners of the Stonehurst Mountain estate. On top of this, it is great to see how our service is being used to accommodate both formal and informal needs, showing the diversity of our service," says Dr. Pieter Streicher, managing director of BulkSMS.com