The Mobi-gram messaging feature is one of BulkSMS's latest innovations that has proven to be a vital tool for enhancing the communication for many of our customers. This feature, which is available on the BulkSMS Text Messenger, gives you the ability to enhance your standard plain text SMS with an embedded URL linking to the visual display of brand, product or event information.
The Mobi-gram feature can be utilised for a variety of business communications, whether it be enhancing customer engagement, directing traffic to a website or even simply adding a creative element to your SMS campaigns. This feature comes fitted with an easy to use message editor which enables you to create dynamic mobile messages, including images or a pdf document with your SMS communications.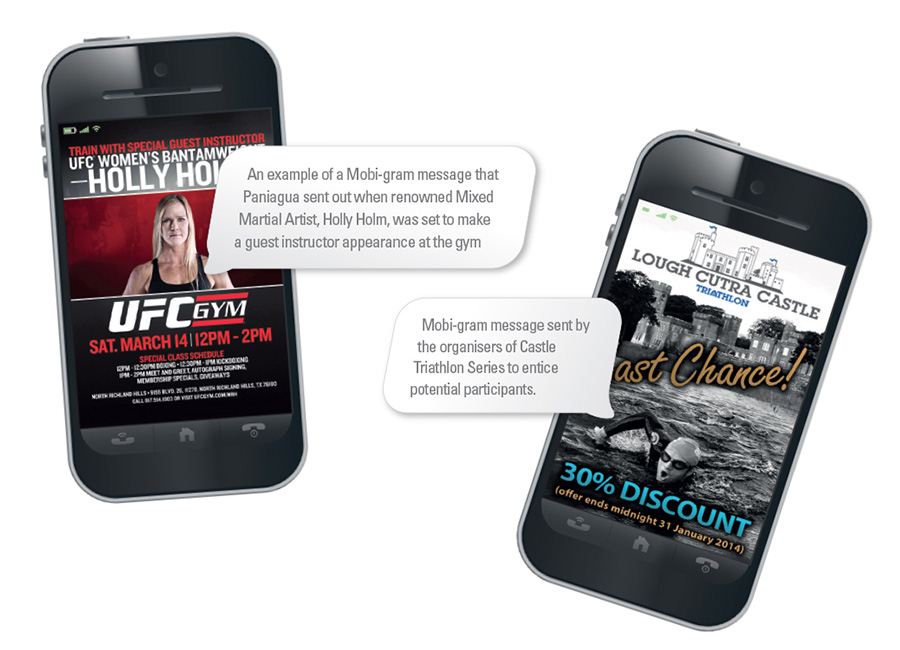 The Mobi-gram has proven to be a popular tool in the sport and fitness industry. For instance,UFC Gym, based in North Richland Hills, Texas, USA, uses the Mobi-gram feature to drive new gym memberships and inform members of any upcoming events or changes to training class schedules. According to Rudy Paniagua, the owner of UFC Gym, the Mobi-gram visual campaign is more effective than email as mobile messaging has proven to reach his entire membership base and attract new members.
Another example of a sporting event's use of the Mobi-gram feature is the Castle Triathlon Series, which hosts triathlons at a selection of iconic castles across the UK, Ireland and France. The organisers of the Triathlon series started using the Mobi-gram feature in 2014 in an effort to promote events and offer discounts for early race entries. According to Patricia Reilly, the chief event coordinator, sending out Mobi-gram messages as part of the pre-event campaigns was very well received and has boosted triathlon race entries significantly.
The Mobi-gram feature can be used for a variety of reasons around sporting events. For Example:
Flyers can be created and sent out as electronic reminders about upcoming events, challenges or races.
Invitations can be sent to gym members or event participants which can boost ticket sales and be used as a drive to offer products, discounts or sporting gear for the event.
Maps can be sent out to all contestants detailing the location of the event as well as the route that the participants will be following for the event.
Thank you messages can be sent out to all participants with logos and branding of the sponsors attached to the plain text.