SMS ensures effective business processes for maths and reading tutoring service
Rockseries, a digital tutoring service for maths and reading, was founded by Chanine Nel in 2004. This South African based company provides affordable, quality educational material to learners across the country via specialized computer software. Rockseries turned to SMS messaging to protect their software from piracy through the sending of activation codes.
Rockseries was started after Chanine left employment as a Maths teacher. She realised that children did not fully grasp the basic mathematical concepts taught in primary school. While Math lessons where the initial subject offered by Rockseries, Chanine soon expanded the lessons by involving other learning material developers. The Rockseries team includes Francois Swart (Speed Reading), Charisse Coleman (Afrikaans language work), Colin Coleman (English grammer), Jean-Gilbert Nel (Additional word problems), Cobus and Caitlyn Theron (Gr. 10-12 Maths) and Pierre Nel (Translations).
In the early stages of the company Chanine noticed that people were able to install the software and then make copies of Rockseries' proprietary learning material. This proved detrimental to her business. For example, someone was able to buy the software once, install it, and pass on the disc with the software on it to other people, who then used the software for free. In an effort to safeguard the educational software, Chanine worked with a software developer to implement an SMS authentication process to protect the Rockseries software from duplication and illegal use.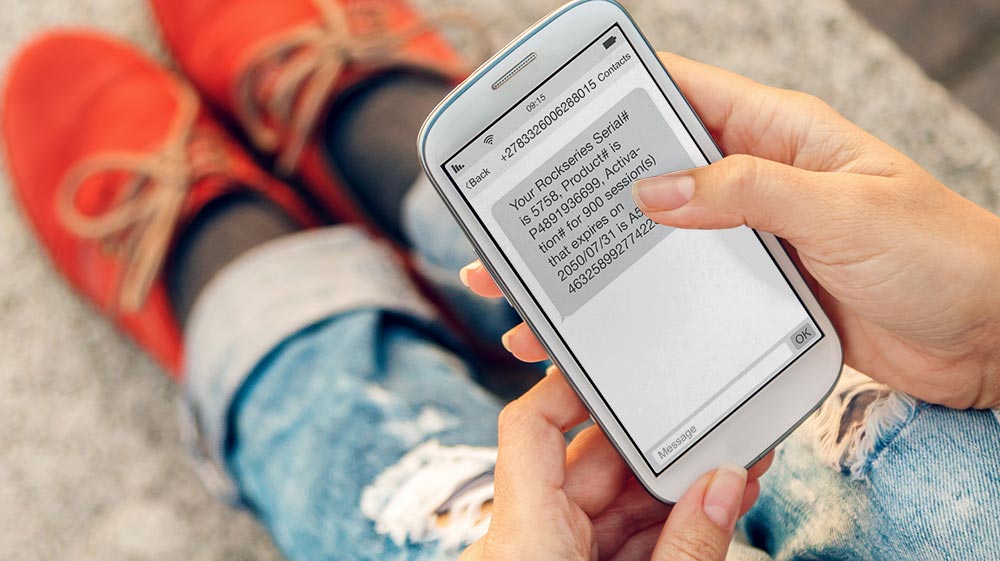 "JayCee Botha, the software developer, integrated the BulkSMS API solution into our software which creates unique activation codes for each client. A client sends their registration code to our SMS shortcode and our software automatically responds via SMS with an activation code. With this activation code, the client can access the software and begin the learning process," Chanine explains.
When asked why SMS was chosen as a central pillar to the activation process, Chanine indicated that "the entire activation process can be done without access to the internet and that suits our target market perfectly. An SMS is all it takes for our clients to activate our software and start learning." Chanine continues, "We couldn't run our business without BulkSMS, SMS ensures that only paying clients are able to access the software."
In addition, Rockseries uses the SMS channel as a help line. Chanine has found the BulkSMS's reply feature beneficial when dealing with the learners, especially in cases when they have any questions on the learning material or are experiencing problems getting started with the software. "My clients can simply reply to the activation code SMS received and their request will come directly to me. I can then respond immediately" says Chanine.
To add to her already dynamic use of SMS, Chanine uses SMS messaging for marketing purposes. She sends targeted SMS messages, using the BulkSMS Text Messenger desktop application, to her clients whenever there is a promotion or new product available. This application allows Chanine to manage her contact groups and send personalised SMS messages about any new learning materials.
According to Chanine, "SMS is a very effective form of marketing because it is quick and I can choose who I want to target. For example, I am currently working on releasing 200 new Maths lessons which will be available to my clients. Once this project is complete, I plan to send a group SMS to all my old clients telling them that the new lessons are available."
"Case studies like this, where SMS messaging is used in different aspects of an organisation show us our truly ubiquitous SMS is. Rockseries' innovative use of our SMS platform is an excellent example of how SMS communications can become crucial to a range of different business processes," says Dr Pieter Streicher, managing director of BulkSMS.com.