SMS messaging is changing the way businesses market their products and services. The main reasons are that SMS messaging is an extremely useful tool for engaging with your target audience and it is a channel that can be used to send relevant offers, promotions or alerts. SMS marketing can increase customer engagements and enhance brand experiences, but it is important to understand how to use this platform correctly in order to produce the most effective mobile marketing strategies. Here are some SMS do's and don'ts to help you get the most out of your SMS marketing campaigns: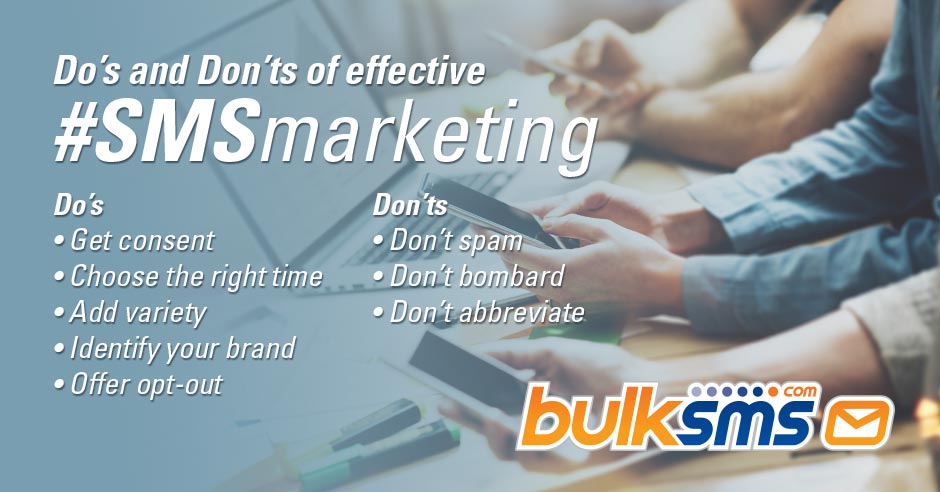 Do's:
1. Get consent
SMS is a permission-based opt-in communication channel. This means that your customers have to expressly agree to receive SMS messages from you.
2. Choose the right time
When sending SMS messages to your customers or potential clients, schedule your SMS messages to be sent at appropriate times during the day. Most countries have regulations indicating when you can and cannot send marketing messages to your customers. If you are unsure, take a look at our Regional Regulations. If the information is not available there, feel free to request it.
3. Add variety to your SMS message content
Even though SMS messages may be limited when it comes to the number of characters available, you can add variety to your messages. Whether you spice up promotional offers or add a visual element to your marketing campaigns, do what you can to keep your clients or customers engaged with your brand.
4. Identify your brand
This may seem like an obvious one but it is very important not to forget to identify yourself or your brand name in all of your SMS marketing sends. Whether you use a sender ID or simply add your brand name in each SMS that you send, make sure that your customers and clients know who they are receiving the messages from.
5. Explain how to opt-out of further communications
Tell your customers that replying stop or unsubscribe will ensure that they will no longer receive SMS messages from you. Make sure that you respect your customers request to opt-out by removing their contact details from your contact list.
Don'ts
1. Don't spam
If you don't comply with mobile marketing regulations, any unsolicited commercial SMS messages will be considered as spam by your target market and your company could end up facing sanctions, fines or legal charges.
2. Don't bombard your customers
Don't bombard your customers with unnecessary SMS messages informing them of every promotion or offer you have for them. Target your communications wisely and ensure you are sending relevant information to your customers.
3. Don't abbreviate
It is not a good idea to abbreviate your SMS messages to the point that they are illegible. Use your discretion when including SMS abbreviations into your messages to ensure that you are communicating clearly to your target audience.
These are a few rules that will help you to comply with mobile marketing regulations before undertaking an SMS marketing campaign. Failure to follow these do's and don'ts could be detrimental to your brand. Click here to find out more about the compliance requirements involved when setting up an SMS marketing campaign and click here to view any regulations specific to your region.