Whether you're organising a local sporting event or an international triathlon, sports event management requires effective coordination and communication right from the starting block. Organizing staff and keeping athletes and supporters informed is essential; and fortunately, it can be done successfully when sending something as simple as an SMS. Let's take a look at how you can use SMS at your sporting event:
Communicate with participants
Coordination of Athletes: Schedule personalised SMS messages to each athlete detailing their unique race number, race time and the event location.
Advice and Tips: In preparation for the event, SMS messages can be sent to participants with training advice or meal plans and recipes. Downloadable recipes, infographics and training guides can be attached to the SMS in the form of a Mobi-gram.
Race Day Updates: If there is an emergency or change in event details, real-time SMS messages can be sent to all the athletes informing them of any changes.
Live Race Alerts: Automated SMS messages can be sent to event participants (or even family or friends) with race completion times.
Post-event notifications: SMS messages can be sent to the participants, sponsors and supporters thanking them for their input during and prior to the event. Competitors can also be asked to send through any feedback that can be used to better future events.
Event promotions and invitations: SMS messages can be sent to previous race participants inviting them to take part in your next sporting event. Mobi-grams can also be added to the text messages to promote or advertise discounts and special offers.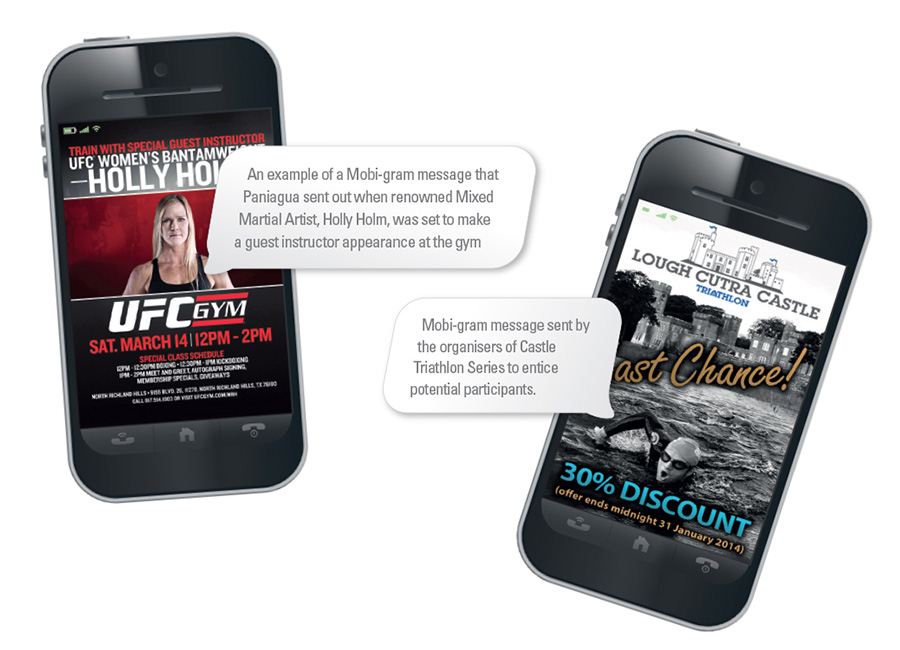 Communicate with staff & volunteers
Notifications to staff and volunteers: Group SMS messages can be sent to all staff and volunteers prior to the event giving out their schedules, dress code and the event location.
Two-way communication: In cases where staff are spread out at an event, SMS messages can be used to facilitate two-way communication between the organisers and the staff.
Sporting events require active communication every step of the way, which is why SMS is the perfect solution. SMS is tried and tested, and instantly accessible and it is these inherent features that make SMS so successful when coordinating sporting events. From marketing the event, to selling tickets and keeping all event participants informed, SMS does it all.